Sometime during the last Millennium, I read a rather wonderful memoir called
Rocket Boys
about a young lad growing up in a 1950s West Virginia coal-mining town. Captivated by Sputnik, the world's first satellite, flying over his home, fourteen-year-old Homer Hickam decided to build a rocket to rival the Russians'. His predominantly true story of Coalwood's Big Creek Missile Agency was later made into a successful film,
October Sky
, starring a young Jake Gyllenhaal.
Now, many years later, I felt a thrill of anticipation in reading another book by Hickam about his Coalwood family:
Carrying Albert Home
. Once again described as a true story
'except the bits that are made up'
, this is the somewhat tall tale of Hickam's parents, Homer Senior and Elsie.
Growing up together as classmates during the Great Depression, handsome but steady Homer Senior is content to follow his father into the mines, while beautiful, vivacious Elsie dreams of escaping the permanent tang of coal dust in the air and moves to sunny Orlando. There she enjoys a burgeoning romance with aspiring dancer and actor Buddy Ebsen, but, when Buddy heads for New York, Elsie moves back to Coalwood, marries Homer and tries to settle down as a miner's wife.
Yet, a wedding present from Buddy in the shape of an alligator named Albert serves as a persistent reminder for Elsie of all she has lost, as well as a constant source of resentment for Homer. Finally, he issues her with an ultimatum; either the alligator goes, or he does. Thus begins a road trip of almost a thousand miles across several states, to carry Albert back home to the swamps of Orlando.
Told from the point of view of Homer Junior, the story of this trip is revealed in episodes as gradually recounted to him by his mother and father. He learns that, as they packed up their Buick to leave Coalwood, the unlikely trio somehow acquired a rooster as a companion; that a journey scheduled to take two weeks turned into a stormy and fantastical odyssey of many months' duration; Elsie helped John Steinbeck decide the title of his most famous novel and Homer was taught to smoke cigars by Ernest Hemingway.
Along the way, the journey changes them both. As the couple grows closer in the face of adversity, Elsie's sharp tongue softens and Homer's stubbornness subsides. Meanwhile, Homer Junior begins to discover his mother and father as individuals in their own right, not just the parents who raised him:
I didn't know how they came to be married or what shaped them to become the people I know. I also didn't know that my mother carried in her heart an unquenchable love for a man who became a famous Hollywood actor and that my father met that man after battling a mighty hurricane, not only in the tropics but in his soul. The story of Albert taught me these and many other things, not only about my parents but the life they gave me to live and the lives we all live, even when we don't understand why.
And at the centre of it all is the lovable and never to be forgotten Albert; heroic on more than one occasion and an excellent judge of character, bestowing his
yeah-yeah-yeah
happy sound only on those worthy of it.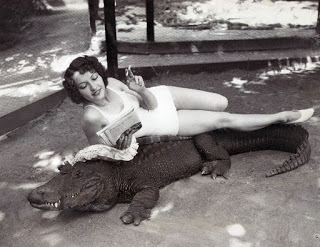 It may not have all the youthful impact and vibrancy I remember from
Rocket Boys,
but
Carrying Albert Home
is a charming, quirky and often whimsical family epic; one you can imagine evolving with every swing-seat retelling. Verging on the folkishly sentimental, at heart, it is an all-American love story; even with a fair share of tragedy mixed in with the comic, the twinkle in Homer's parents' eyes is never far away.
Image courtesy of homerhickam.com. Carrying Albert Home is published in the UK by HarperCollins; thanks to them for my review copy.