This review was originally written for The Public Reviews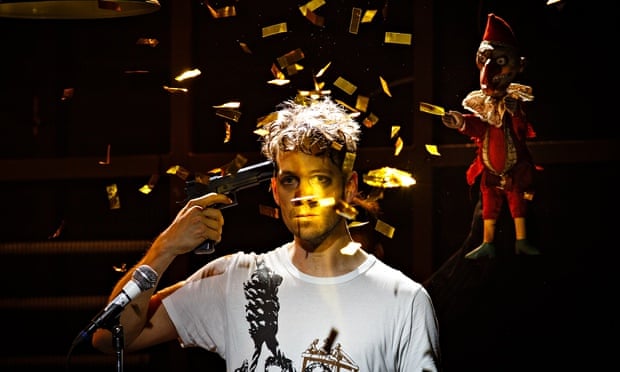 Make no mistake, exuberance is in town. Kneehigh have arrived in Bristol with their highly stylised version of The Beggar's Opera and, in the spirit of the original, it's a loud, nihilistic and outrageously funny commentary on the ills of today's society.
You don't need to be familiar with John Gay's satirical plot from 1728 to enjoy this adaptation, because Carl Grose has

updated it with a 21st Century urban myth. Macheath is now a contract killer, quickly despatching not only Mayor Goodman but also his dog, who would otherwise have been a witness to the murder.
Before the audience even reaches the auditorium, the scene is set with ten pound notes exploding from a filthy-looking front of house toilet and placards plastering the walls. On stage, there's more than a whiff of corruption, as the honourable Mayor's demise leaves a hole quickly filled by local business magnate Les Peachum, who just happens to have paid for the crime. His wife is the real brains behind it all, but when their daughter Polly marries Macheath, her carefully-laid plans may be about to unravel.
Charles Hazlewood's score both complements the action and lifts it to a higher level, seamlessly fusing musical styles, from punk notes reminiscent of Ian Dury and the Blockheads to electro, disco and ska. There are nods to eighteenth century composers like Purcell and touching ballads, as Polly Peachum realises she may not be Macheath' s only love.
The outstanding cast of actors effortlessly inhabits designer Michael Vale's all-encompassing world of scaffolding and ramped planks, which they fluidly scale and manoeuvre. They collaborate in multiple roles, sliding down poles to take their place in the spotlight before merging back into the shadows. There's a lot of slick suitcase-switching, dances fizz with energy and their musicianship shines throughout.
Dominic Marsh is cheeky and charismatic as the lovable rogue Macheath, who's getting away with murder. Rina Fatania may have appropriated more than her fair share of bawdy lines as Mrs Peachum, but she delivers them with a knowing swagger. Andrew Durand brings high comedy to the much put-upon go-between Filch, especially in a tightly choreographed scene where he's beaten up in slow-motion. And in the broth of festering corruption, Carly Bawden introduces a refreshing purity to the role of Polly Peachum, even though she will undergo her own metamorphosis.
Kneehigh's use of Punch and Judy puppetry introduces a seaside sense of the familiar, while the babies Macheath discovers he has littered about the Slammerkin club more than hold their own, creating some of the loudest laughs of all.
Mike Shepherd's production, in collaboration with Liverpool Everyman and Playhouse, has been receiving glowing reviews in both Liverpool and Kneehigh's native Cornwall. The swift mood-change towards the end may not be enough to explain the anarchic onslaught of the climactic final scene, but it's nevertheless a dazzling piece of theatre. Beg, steal or borrow one of the remaining tickets to see this; you'll be happy that you did.
Runs until 25th October 2014. Photo: Steve Tanner