I loved Rachel Joyce's bestselling first novel,
The Unlikely Pilgrimage of Harold Fry
, about a man who walks the length of England to save the life of an old friend. Harold's literal and metaphorical journey is a warm, witty and inspiring tale, radiating a sense of hope that it's never to late to atone for past mistakes.
Written from the point of view of the woman who must wait for him,
The Love Song of Miss Queenie Hennessy
is Harold Fry's hotly anticipated companion. Queenie is dying of cancer and living out her remaining days in a hospice in Berwick-upon-Tweed, when she learns of Harold's walk. She hasn't seen him for more than twenty years and there's still much that has been left unsaid between them.
Queenie may have been robbed of her voice by illness, but with the help of a new volunteer, she quietly and insistently makes herself heard. It's through writing down the truth in this last, heart-rending letter that she comes to believe she can hang on until Harold arrives.
She has moments of doubt that she can make it:
I can't wait for Harold. I am here to die.
But Sister Mary Inconnue, the nun transcribing her scribbles, doesn't let Queenie off the hook:
Pardon me, but you are here to live until you die. There is a significant difference.
In between the unfolding chapters of Queenie's life we meet the nuns who are helping to look after her, as well as the other residents of the hospice. There's the irascible Scotsman Mr Henderson, blind Barbara and her escaping glass eye, the Pearly King and loud and colourful Finty. Other patients come and go and Queenie finds herself becoming increasingly used to the sight of the undertaker's van on the drive.
It's possible to read this novel without first knowing Harold Fry's story, but if you do then the episodes of Queenie's past fill the gaps in Harold's with the gratifying precision of a well-cut jigsaw. It seems that Queenie has not so much stood on the shoulders of a giant, as leant her frail weight against Harold's tall frame. But still she still has some resistance of her own:
I didn't want support. I had hosiery for that. I wanted love.
Queenie's discussion with Harold's son about the ordinary ways of loving reminded me of W. H. Auden's
O Tell Me the Truth About Love
When it comes, will it come without warning
Just as I'm picking my nose?
Will it knock on my door in the morning,
Or tread in the bus on my toes?
while her intimate knowledge of every inch of her beach house garden in Embleton Bay made me think of Tove Jansson's innate love of her island in
The Summer Book.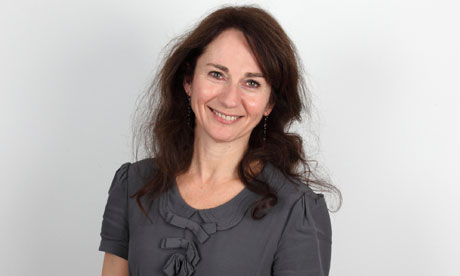 Queenie Hennessy
may be reflective and almost unbearably sad, but it captures the warts-and-all humour of life while remaining addictively readable. Rachel Joyce has a rare ability to write about profound ideas with an enviable lightness of touch; any doubts I might have felt about the almost heavenly surroundings of Queenie's last days were swept away in the impact of her story's ending. Building on the spirit of Harold Fry's renewal in the first novel, by the end of the second there's a satisfying sense that Queenie Hennessy's life has finally come full circle.
The Love Song of Miss Queenie Hennessy
is now out in hardback, published by Doubleday Books.
Thanks to Transworld Publishers for my review copy.
Images courtesy of rachel-joyce.co.uk and the Guardian.