The verses of Philip Larkin's poem
MCMXIV
, from which Deborah McAndrew's new play takes its title, talk of
'sun on moustached archaic faces'
and
'place-names all hazed over with flowering grasses'
. This sense of a more innocent, bygone era is reflected in the opening of
An August Bank
Holiday Lark
as, in the summer of 1914, the villagers of a rural community in East Lancashire prepare for the celebration of Wakes week.
This is a time when farmers and mill workers can rest from their year-round toil, the highlight being the annual Rushbearing festival, when a decorated cart is pulled through the streets accompanied by Morris dancers. The forces of war may already be mobilising around Europe, but they are as yet a distant rumble for these villagers. In this long established community, families like the Farrars and the Armitages have rubbed along side by side for generations; not without their hardships, as working conditions at the nearby mill have all too often taken their toll.
The first half of this play, presented by Northern Broadsides in partnership with the New Vic Theatre, is suffused with humour, bringing us a glimpse of life as it was. As their parents squabble over escaped hens, young Frank Armitage (Darren Kuppan) and Mary Farrar (Emily Butterfield) carry on their courting in secret, afraid that Mary's father John (Barrie Rutter) will disapprove. John is Squire of the local Morris men, a group so imbued with tradition that he counsels the younger generation against the introduction of any fancy new dance steps. Despite this, as the village men don their clogs, practices are often riotous and hilarious opportunities for teasing and flirtation. Women, not yet given the vote and under no circumstances allowed to join in the dancing, still have a role in sewing costumes and playing the accompanying music. It's infectiously rousing and, as the Rushcart is constructed before our eyes and paraded by men with hats adorned with fresh flowers and ribbons, the audience is soon clapping and cheering along with the imaginary crowds.
But we know too well that this rural community is set to be torn asunder. Many of the young men sign up enthusiastically with their local recruiting officer, keen to see more of the world in a war which will be over by Christmas. After the interval, the tone becomes darker; although there's still a wedding to enjoy it's cut short as the men who've completed their training are sent to fight in Gallipoli. And with the date of the next Rushcart festival approaching, the villagers who remain behind plan to hold it in honour of their absent men, only to find themselves in a world where such celebrations no longer have any place.
An August Bank Holiday Lark
is a significant piece of new writing by Deborah McAndrew, who has collaborated previously with Northern Broadsides and teaches at Staffordshire University. It was originally performed in the round at the New Vic Theatre in Newcastle-under-Lyme, the theatre of my childhood where I still recall first seeing Mary Shelley's
Frankenstein
. The force that is Barrie Rutter (the man who cast Lenny Henry as
Othello)
not only commissioned and directs the play but also takes the role of John Farrar with great distinction and draws some excellent performances from his capable cast. Lauryn Redding in particular is notable as the often comic mill worker Susie Hughes.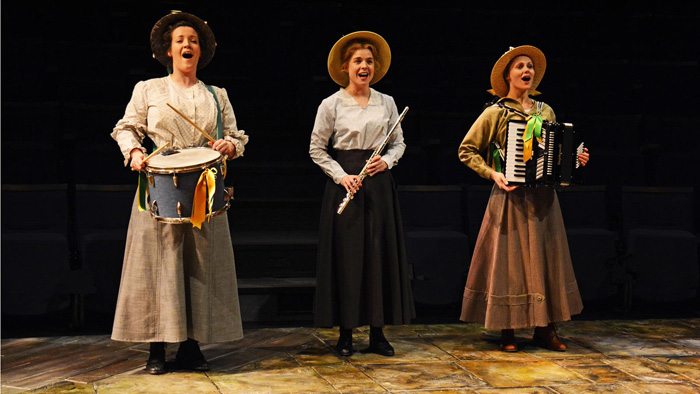 The play's set and costumes are reminiscent of
War Horse
, with Joey replaced by a Rushcart; a marvel of construction built and dismantled again for every performance. Adapted for the proscenium arch, on a few occasions it does feel as though the cast has too far to run on and off stage. Then, in the wedding breakfast scene, the table is mysteriously set right at the back, so that even those of us in the stalls are unable to see clearly what's going on (my theory is that the cast have eaten all of the much admired wedding cake and are having to cover this up).
An August Bank Holiday Lark
is by turns a funny, sad, wise and ultimately moving commemoration of the centenary of the outbreak of the First World War. It embodies the transition in Larkin's poem, to a world where those flowering grasses are
'shadowing Domesday lines under wheat's restless silence'
and there is
'never such innocence again'
. This play deserves to be seen and pondered over by as wide an audience as possible, lest we should ever dare to forget.
Photos courtesy of Northern Broadsides.
An August Bank Holiday Lark
continues on tour until 14th June 2014, details here.