A few years ago, while undergoing a particularly unpleasant clinical procedure, I glanced over the nurse's shoulder at the cheap, framed print on the wall. It was a painting of a country gate opening on to a field and it transported me to the triangle of lanes above my house, where my family and I regularly walk.
All at once, I was at the gate taking in the view of the surrounding countryside, the sun warm on my face. It would be an exaggeration to say that picture saved my life, but it certainly helped me muddle though a difficult time. Whenever something daunting was about to be done to me, that gate would pop unbidden into my head. The sun was always shining and the corn ready to be cut and I'd start to visualise the way I was heading and which of my neighbours I might bump into.
Thankfully, I haven't had to take myself away to my gate lately, but reading the opening pages of
The Summer Book
by Tove Jansson, it's importance came back to me. Sitting on a Paddington train bristling with ipads, sleet dancing down as we drew to a halt next to Didcot power station, I was conveyed to a tiny island in the gulf of Finland, where an elderly artist and her six year old grand-daughter Sophia are spending their summer. Rarely have I come across such an overwhelming sense of place from the very outset of a story.
It was an early, very warm morning in July, and it had rained during the night. The bare granite steamed, the moss and crevices were drenched with moisture, and all the colours everywhere had deepened. Below the veranda, the vegetation in the morning shade was like a rainforest of lush, evil leaves and flowers, which she had to be careful not to break as she searched.
Written largely from her own experience, you get the feeling that Jansson knows and can describe every pebble and plant on this island. Life is deceptively simple here, as the only deadlines are those set by the weather and the changing of the seasons and yet it soon becomes apparent that in spite, or perhaps because, of this, huge philosophical questions are being tackled. Sophia has recently lost her mother, we learn, and so is fearful of death. She asks her grandmother when she is going to die, and is answered
'Soon. But that is not the least concern of yours.'
The preoccupations and terrors of childhood are captured with great attention to detail - there is no skirting over youthful anxieties to recall only joyful summer days of swimming and exploration. Sophia and her grandmother are based on Jansson's niece and her own mother and their characters are firmly rooted in reality. Grandmother often feels dizzy and tired which sometimes makes her less patient and less wise than she intends. Sophia is quick-tempered, alternately fearful and over-bold and often too busy to wait for her grandmother to catch up. But they develop a companionship which grows and endures during their adventures together over a summer on the island.
Sophia and her grandmother talk about heaven, whether it might contain any ants and why the angels all wear dresses. They watch birds and wildlife together, collect bones in a magic forest and offer unrequited love to a cat. When Sophia develops an irrational fear of insects, Grandmother suggests they write a book about angleworms. They explore the nearby islands with Sophia's father, a constant but unvoiced presence in the story, celebrate midsummer and endure a mighty storm, before preparing to leave in the autumn.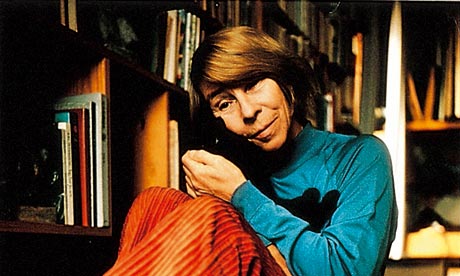 Tove Jansson is best known as the creator of the
Moomin
children's stories. She wrote
The Summer Book
shortly after the death of her own mother and it was her personal favourite of the adult fiction she created. The
Sort of Books
edition has a wonderful introduction by Esther Freud, who visits the remote island and meets the real life Sophia, setting in context the pared-back prose and crisp dialogue of this absorbing, amusing and ultimately uplifting book.