When you pick up a book with a title as unequivocal as
First They Killed My Father
, you know it's not going to be a bundle of laughs. It might usually have put me off reading the contents, but my friend Liz (undoubtedly a person of impeccable taste) lent it to me a few months ago. She bought it when she was planning to visit Cambodia, to find out more about the history of the civil war that decimated so much of the country during the 1970s.
Picture courtesy of HarperCollins
First They Killed My Father
is the memoir of Loung Ung, a daughter of Cambodia who is five years old and living in Phnom Penh with her family at the beginning of the book. Her story opens with happy memories of an affluent life-style; Loung lives with her parents, three brothers and three sisters in a large comfortable apartment in the city with maids on hand, school to attend and swimming and the cinema her favourite leisure activities.
Of course, this idyllic existence is destined to change and already there's trouble in the surrounding countryside. The Cambodian government, supported by the United States and South Vietnam, is pitted against the Khmer Rouge (the Communist party) and their North Vietnamese allies. Civil war is raging, bombs dropping and and many rural families are moving to the city in search of refuge.
Then, one Thursday in April 1975, Loung hears the thunder of engines in the distance. Khmer Rouge soldiers, dressed in black with red sashes, roll into Phnom Penh, forcing citizens to evacuate at gunpoint. They yell that the city will be bombed by the United States, but that people will be allowed back home after three days. Loung and her family pack their bags hurriedly and make their escape - they are lucky that at least they have a truck, whereas most people leaving are on foot.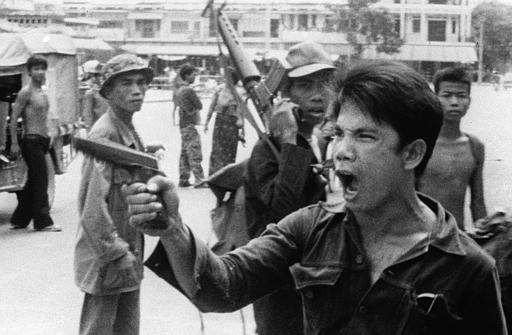 Khmer Rouge Soldiers (courtesy of World Without Genocide)
Of course, as the family realise, they won't be allowed to return to their home. Instead they head to the village of Krang Truop where Loung's uncles live, a journey of several days which, having run out of fuel, they have to complete on foot. Conditions in the village are rudimentary and they have to ask permission of the Khmer Rouge-imposed village chief to stay. But even here, the family are not safe; because of Loung's father's position as an official of the deposed government they keep moving from village to village, never able to confide in any of their neighbours for fear of being discovered by the
Angkar
, the Khmer Rouge governing body headed by Pol Pot.
Loung and her family settle into their lowly position as new migrants to the countryside, inferior to the 'base people' who, having lived in villages all their lives, are now considered 'uncontaminated'. There is supposed to be no hierarchy in communist Kampuchea, yet former city dwellers are seen as corrupt and the lowest of the low; their food rations reduced to almost nothing as the Khmer Rouge sells their harvest in exchange for guns. Loung and her family fall ill as a result of hard labour and malnutrition; all of them struggle to survive and they come to the painful decision they will only do so by splitting up. If they are together when Loung's father's position is discovered, they will surely all be killed alongside him. Loung's siblings are sent to labour camps and, her family torn asunder, she herself is trained as a child soldier before the regime is eventually overthrown.
As you might expect, this is not the easiest of books to read, although its harrowing pages embody one child's determination to survive and end with hopes of a better life. One question which kept occurring to me was how much of the detail of events and conversations Loung would really have been able to recall as a five year old child and how much has necessarily been re-imagined with the help of her older siblings and other survivors. But having said this, Loung tells her story well and, from reading the notes at the back, this was undoubtedly an act of catharsis for her, a painful reliving of those early years through her deliberate choice to write in the present tense. I was struck by the general lack of compassion of those years, not only on the part of the regime as you would expect, but also between those who suffered under it; neighbours didn't look after or confide in each other because they were afraid of being betrayed to the
Angkar
. In the labour camps children didn't trust each other or strike up friendships for the same reason and through all of the deprivations, Loung was only ever able rely on her immediate family members.
Loung Ung (picture courtesy of The Women's Conference)
Loung Ung's experiences demonstrate once again the brutality of misdirected ideology, the all corrupting nature of power and the callousness to which a regime will sink in order to cling on to it. Some two million people out of a population of seven million died at the hands of Pol Pot and the Khmer Rouge. Loung now lives in America and is a spokesperson for the Campaign for a Landmine Free World; it's vital for the people of Cambodia today that the voices of those like Loung and her family who suffered and lost so much are listened to and understood.