My book club likes a challenge every now and then and as none of us had read much in the way of Kafka, we settled on
The Trial.
I saw it performed at the National many moons ago, directed by Steven Berkoff with Anthony Sher in the role of Josef K, and enjoyed it as a Beckett-like piece of absurdist theatre.
Kafka lived through interesting times. Born in to a Jewish family in Prague in 1883, he trained as a lawyer and worked most of his life for the state insurance company, a job he came to resent for interfering with his vocation as a writer. He had a troubled relationship with his overbearing and authoritarian father and this conflicted relationship often influenced his work. He was also a womaniser who visited brothels for most of his adult life, although he had close relationships with several women. He never married and died of tuberculosis in 1924.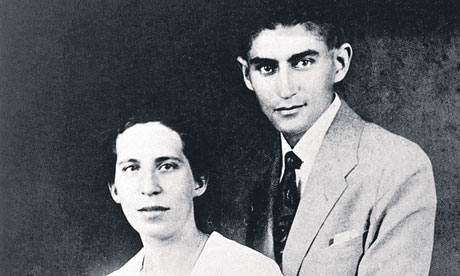 The Trial was written in 1914; as war broke out around him, Kafka was excused national service because of his essential government work and ill health. He had just met Felice Bauer, to whom he later became engaged, and she is said to have released in him the fluency of his writing and to have had a great bearing on his work - her blouse even appears in the first chapter of The Trial.
The story is that of Josef K, a senior administrator in a bank, who one morning at home finds himself unexpectedly under arrest. He is allowed to continue working until summoned to attend a court hearing the following Sunday at an unspecified time. Neither this appearance nor any of his subsequent encounters with officials, advocates, fellow accused or even court artists ever offer him any clarification of the charge brought against him and how he can refute it:
For the proceedings were in general kept secret not only from the public but from the defendant too.
Although at first not overly concerned, Josef K becomes more and more entangled in his attempts to discover how he can free himself from the unknown accusation. His work at the bank suffers and he begins to find himself outflanked by the wily deputy manager. He believes himself to be innocent but this is difficult to plead as the supporting evidence required could be from any time of his life.
At every turn the clarity he seeks is blocked by bureaucracy and obfuscation and all that becomes clear is that he will never truly be free again. Although the book was unfinished at the time of Kafka's death, and was only published posthumously by his great friend Max Brod, Kafka himself had written its disturbing ending.
This densely written text is not a good night-time book, I discovered, more than once waking from a doze to find it abandoned in front of me. It's difficult, dark and surreal - the humour that bubbles to the surface is of the bleaker kind. Kafka also seemed to write women shabbily at times, with the younger ones only there to provide sexual gratification.
Yet there is so much in this book which foreshadows the futility of present day bureaucracy, the threats and frustrations of our own democracy. That sinking feeling you get when trying to navigate one of those automated phone calls where none of the available options are relevant. Or being asked repeatedly for your password, mother's maiden name, pet's name and shoe size to demonstrate you are actually you.
The Trial
profoundly questions the nature of existence and society. While reading it, I had one of those spine-tingling moments that harked back to something I'd been listening to on Radio 4's
Today
programme. The Justice and Security Bill currently at committee stage in Parliament proposes in certain circumstances that claims could be made against an excluded party, who is not able to see or challenge the evidence. Instead their influence would be represented by vetted 'special advocates'. Chilling indeed that this proposal in the UK in 2013 should have been foreseen by a citizen of the doomed Austro-Hungarian Empire almost 100 years earlier.
Pictures courtesy of The Guardian. The Trial is available as a Penguin Modern Classic.