This review was first written for The Public Reviews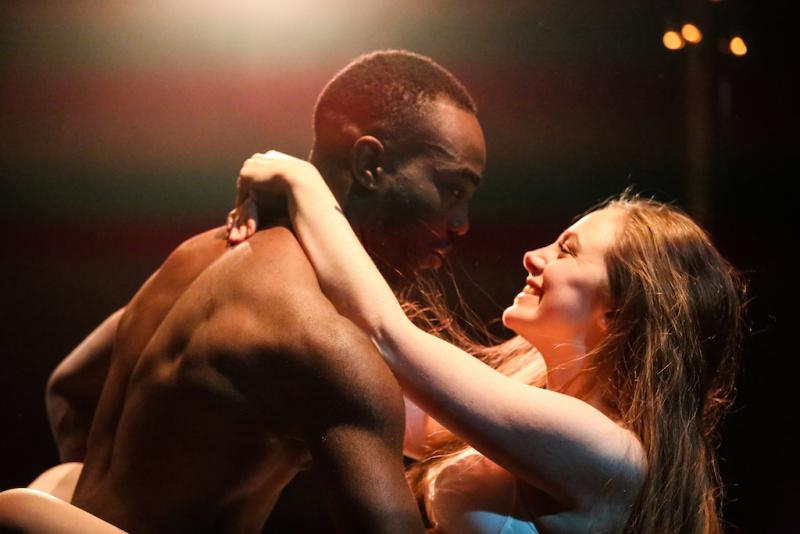 Romeo and Juliet is one of Shakespeare's most familiar and frequently performed plays, a youthfully idealistic tale of star-crossed lovers. What can often be overlooked, though, is the visceral brutality of the clashes between the younger male Montagues and Capulets, their raw and ceaseless goading of each other, even until death.
In young Russian director Polina Kalinina's new production for Shakespeare at the Tobacco Factory (SATTF), this testosterone-fuelled rivalry crashes into the foreground, as the action relocates to the 1960s, birthplace of the hormonal teenager. It begins with a central playground roundabout, a world where childhood innocence has been left behind and young people gather to drink and fight. Quickly, the roundabout is stripped down to its component parts of bare metal bars; perfect weapons for the warring factions who circle each other with menacing intensity.
Meanwhile, the older generation is discussing marriage alliances, even as Romeo espies Juliet and forgets his previous infatuation with Rosaline. Kalinina describes the tension as 'stretched like rubber bands – with the younger generation pulling one way and the older another.'
In the first half there are some wonderful set pieces; tightly staged, thrillingly violent fight scenes as the glittery, substance-soaked young Montagues face up to their gas-masked opponents. The loud, fast-paced Capulets' ball, where Romeo and Juliet first discover each other, is so startlingly decadent you might find yourself wishing you could be part of it. The setting draws comparisons with Baz Luhrmann's 1996 modern film reinterpretation or the more organised gangland culture depicted in Lucy Bailey's King Lear of 2013 at the Theatre Royal, Bath.
Not everything works quite so well, though. The balcony scene feels contrastingly under-powered as Juliet inhabits the central revolve of the dismantled roundabout and Romeo skirts around in the shadows. And in the general helter-skelter rush of words, some of the meaning of Shakespeare's text, usually delivered with such clarity by SATTF under artistic director Andrew Hilton, has a tendency to be lost. It takes stalwarts like Paul Currier as the steadfast Friar and Alan Coveney as the Prince, to re-establish the pace and rhythm of the verse and certainly by the second half, its delivery is much improved.
After the interval, the roiling cauldron of energy is distilled into pure emotion; from Juliet's exuberantly adolescent dancing to the tender hours she is able to snatch with her new husband and the ending you always hope might somehow be avoided this time. The cast is outstanding and surely contains stars in the making; none more so than Paapa Essiedu who gives us an endearingly buoyant and convincing Romeo, charming as a lover even as he sticks the knife into his enemy. Daisy Whalley's Juliet grows before our eyes from a biddable daughter into a passionate bride who would rather die than contemplate life without her fledgling husband. Callum McIntyre and Oliver Hoare impress as Benvolio and Mercutio respectively, Fiona Sheehan is haughty yet vulnerable as Lady Capulet and Sally Oliver shines as the edgily knowing nurse, complete with hotpants and hair rollers, hinting at hidden depths and hidden relationships.
The vivid 1960s aesthetic running through Emma Bailey's costume and design reinforces Kalinina's bold vision of a world on the cusp of huge social and political disorder, bordering on anarchy. This already striking production will surely be tightened over coming performances into something truly memorable.
Runs until 4th April 2015 then touring | Photo: Craig Fuller